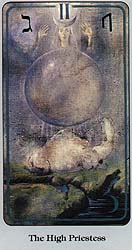 Haindl Tarot
The High Priestess
The Symbols

Gimel, carmel; Ur, U, bison or rain; Moon.

The Image

The High Priestess is the Goddess, manifested as the moon, the seas, the night and the Earth. Light fills the card, radiating from her palms, pouring down from a globe over her head. Her dress seems to pour down like rain on the camel and the darkland. She is the divine life principle.
The Haindl Tarot weaves a tapestry of haunting beauty from the traditions of Native America, the Holy Grail, the I Ching, Kabbalah and the Norse Runes, and is the deck of choice for mystics and those seeking enlightenment. If you would like your own copy of the Haindl Tarot, you can buy it now!