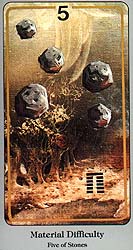 Haindl Tarot
Five of Stones (Material Difficulty)
I Ching Hexagram 23 Splitting apart. Dead or dying trees are before a pool of stagnant water. The Stones float with no purpose or direction. The red spot can be a wound or possibly life energy at the center of the dark time. A feather from a white bird reflects the beauty of winter.

The Haindl Tarot weaves a tapestry of haunting beauty from the traditions of Native America, the Holy Grail, the I Ching, Kabbalah and the Norse Runes, and is the deck of choice for mystics and those seeking enlightenment. If you would like your own copy of the Haindl Tarot, you can buy it now!