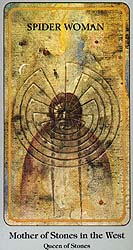 Haindl Tarot
Mother of Stones (Spider Woman)
The serene face of the Spider Woman, the mother, radiates the labyrinth of her thoughts. The woman stands unmoving against a background in which the Earth and the sky seem to join. The labyrinth forms a spiral.

The Haindl Tarot weaves a tapestry of haunting beauty from the traditions of Native America, the Holy Grail, the I Ching, Kabbalah and the Norse Runes, and is the deck of choice for mystics and those seeking enlightenment. If you would like your own copy of the Haindl Tarot, you can buy it now!