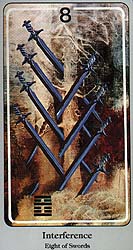 Haindl Tarot
Eight of Swords (Interference)
I Ching Hexagram 21 Biting Through. While the swords do not cut the trees, the trees appear ill. They symbolize nature in trouble, and a sick spirituality. A bright light shines on the trees and plants.

The Haindl Tarot weaves a tapestry of haunting beauty from the traditions of Native America, the Holy Grail, the I Ching, Kabbalah and the Norse Runes, and is the deck of choice for mystics and those seeking enlightenment. If you would like your own copy of the Haindl Tarot, you can buy it now!