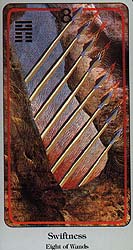 Haindl Tarot
Eight of Wands (Swiftness)
I Ching Hexagram 35 Progress. The spears move upward for spiritual development. Red, as of fire or blood, gives way to a blue sky. The impulse for movement comes from the life energy but carries us to a purer level. The spears move jointly, energy focus on a single goal.

The Haindl Tarot weaves a tapestry of haunting beauty from the traditions of Native America, the Holy Grail, the I Ching, Kabbalah and the Norse Runes, and is the deck of choice for mystics and those seeking enlightenment. If you would like your own copy of the Haindl Tarot, you can buy it now!