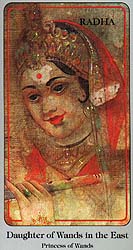 Haindl Tarot
Daughter of Wands (Radha)
Radha and Krishna (Son of Wands) are gods, but they are also human. They are young and in love. Their flutes are the power of wands translated into music. Radha's flute blends the colors of the rainbow. The red dot on her forehead is a symbol of holiness and life. The three stones over her forehead signify sensuality, motherhood and wisdom.

The Haindl Tarot weaves a tapestry of haunting beauty from the traditions of Native America, the Holy Grail, the I Ching, Kabbalah and the Norse Runes, and is the deck of choice for mystics and those seeking enlightenment. If you would like your own copy of the Haindl Tarot, you can buy it now!