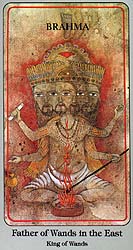 Haindl Tarot
Father of Wands (Brahma)
Brahma is the Creator in the Hindu Trimurti of Creator, Preserver, Destroyer. He has four arms, representing power beyond human limitations. His four faces blend. The cord on his chest and the white cloth represent the priestly caste. A scroll in one hand is religious laws, a cup holds milk, and a spoon is to stir the milk over the scared fire.

The Haindl Tarot weaves a tapestry of haunting beauty from the traditions of Native America, the Holy Grail, the I Ching, Kabbalah and the Norse Runes, and is the deck of choice for mystics and those seeking enlightenment. If you would like your own copy of the Haindl Tarot, you can buy it now!