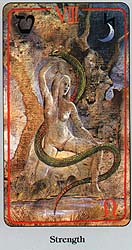 Haindl Tarot
Strength
The Symbols

Teth, snake; Sigil, S, sun; Leo.

The Image

The person of Strength is open, without shame. Her strength comes from her unity with Earth and her own divine energy. She is a shaman performing a ritual under the moon, in the woods by a pool of water. By holding up the snake, the shaman connects the above and the below, the sky and the Earth. The snake is green, the color of new life, and its underside id red, the color of energy.
The Haindl Tarot weaves a tapestry of haunting beauty from the traditions of Native America, the Holy Grail, the I Ching, Kabbalah and the Norse Runes, and is the deck of choice for mystics and those seeking enlightenment. If you would like your own copy of the Haindl Tarot, you can buy it now!