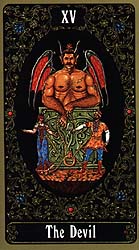 Russian Tarot of Saint Petersburg
The Devil
The Devil's face resembles Josef Stalin, who ruled the USSR for thirty years. His powerful body symbolizes the intensity of his power, tattoos represent his power's criminal nature, and bat wings symbolize its extent. The marshall's star above him is the symbol of his victories, the horns show the devilish cunning with which he holds his winnings. The two eyes on his chest are the vigilance of the secret police. The Devil's chains trap a man and a woman, deprived of civil rights.

The Russian Tarot of Saint Petersburg is the final commissioned work of Yuri Shakov, a master in the lost art of Russian miniature painting. The rich, dark images lend themselves to questions regarding the struggle of the human spirit in trying times. If you would like your own copy of the Russian Tarot of Saint Petersburg, you can buy it now!