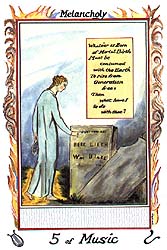 William Blake Tarot
Five of Music (Melancholy)
The "unlettered Muse" of Thomas Gray's most famous poem, "Elegy Written in a Country Churchyard," stands amidst several tombstones. Her finger traces the letters of the words, DUST THOU ART, beneath which the inscription says, HERE LIETH WM BLAKE. The tombstones symbolize the death of love, emotional loss, broken vows, or plans overturned, as well as one's owns emotions. Gray's poem is a melancholy speculation on mortality and immortality; Blake's name upon the tomb is his own ironic gesture of empathy. In the quotation window, Blake tells us that death means spiritual freedom. The last line echoes Jesus speaking to his mother at the marriage in Cana. This haunting question may be a repudiation of friendship, family, and the ties to life -- a statement of existential melancholy; or it can be interpreted as a statement of spiritual necessity: no one can pursue the spiritual path without first forsaking the ties of the material world.

The William Blake Tarot explores the mystical vision and artistry of the renowned English painter and poet. Through rich interpretations focused on creative undertakings, it has long been the deck of choice for artists, writers, musicians, and thinkers. For more information about this deck, or to buy your own personal copy, go to www.blaketarot.com.