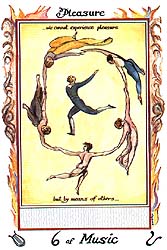 William Blake Tarot
Six of Music (Pleasure)
Dancers circle around a central figure. With six as the number of sharing, and Music as the suit of love and emotions, this card is immediately understandable in its simplicity and gracefulness. The card quotation confirms the social nature of human pleasure. This represents any network or support group that functions to assist and encourage the individual. It is the dance of community.

The William Blake Tarot explores the mystical vision and artistry of the renowned English painter and poet. Through rich interpretations focused on creative undertakings, it has long been the deck of choice for artists, writers, musicians, and thinkers. For more information about this deck, or to buy your own personal copy, go to www.blaketarot.com.