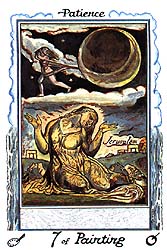 William Blake Tarot
Seven of Painting (Patience)
This card is a collage of two images from Blake's Jerusalem. In the lower part, Jerusalem, who represents Liberty, patiently awaits the emergence of the forces of the four Zoas, as a new day dawns. In the upper part, a maiden patiently pulls the new moon along a track of clouds into the stars. The upper figure symbolizes time measuring the movements of the moon with her paces. The moon symbolizes female menstruation, a time of cleansing and purification. Both figures are women, emphasizing that this is a period of creative gestation. In the lower portion, Jerusalem's neck is bent by the weight/wait of time just above her, but her hands signify an attitude of patience and endurance.

The William Blake Tarot explores the mystical vision and artistry of the renowned English painter and poet. Through rich interpretations focused on creative undertakings, it has long been the deck of choice for artists, writers, musicians, and thinkers. For more information about this deck, or to buy your own personal copy, go to www.blaketarot.com.