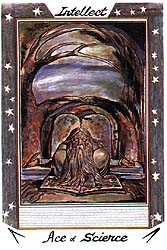 William Blake Tarot
Ace of Science (Intellect)
From the title page of the Book of Urizen, this depicts the Zoa of Mind as a blind patriarch squatting on an open book, writing with his right hand while etching with his left. From the edges of the open book descend roots indicating that these ideas are from nature, not the imagination. The tombstones represent spiritual death; also Mosaic tablets of moral law that limit individual freedoms. Arching overhead is the 'forest of error'. Urizen, the "dark power," creates consciousness, but lacks creative vision. He formulates scientific truths but does not understand their implications. Blake stressed that error must be recognized before it can be cast out, and thus Urizen's situation is instructive. Behind him is an open space of sky, the means to imaginative freedom -- he has only to turn around and see it.

The William Blake Tarot explores the mystical vision and artistry of the renowned English painter and poet. Through rich interpretations focused on creative undertakings, it has long been the deck of choice for artists, writers, musicians, and thinkers. For more information about this deck, or to buy your own personal copy, go to www.blaketarot.com.