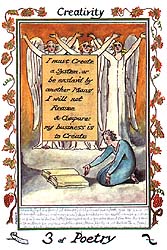 William Blake Tarot
Three of Poetry (Creativity)
The poet kneels before an open book, his arms forward in a gesture of both worshipping and welcoming. The triple angels are spiritual messengers and poetic muses. They also suggest that creating forms is connected to the generative forces of life and sexuality. The man is clothed in a simple blue smock, suggesting an unsophisticated or spiritual motive. Except for a few words heading the page, his book is blank -- it represents unlimited creative potential, awaiting the words or system of thought to be inscribed on its pages. Being a book rather than a single sheet or scroll suggests a synthesis of many pages, hence of many related ideas and concepts

The William Blake Tarot explores the mystical vision and artistry of the renowned English painter and poet. Through rich interpretations focused on creative undertakings, it has long been the deck of choice for artists, writers, musicians, and thinkers. For more information about this deck, or to buy your own personal copy, go to www.blaketarot.com.