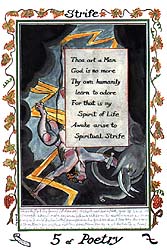 William Blake Tarot
Five of Poetry (Strife)
The angel Lucifer ('light-bearer') and his "portentous shade," an elephantine creature, fall through the stormy skies of some "foreign, un-terrestrial sphere" (Edward Young's lines). In Blake's myth, Lucifer represents the first rejection of spirituality; his flaw is pride. He is a fallen aspect of God within man, which whom we must do spiritual battle. Normally elephants symbolize positive qualities such as intelligence, chastity, and longevity; and in the medieval bestiaries they are emblematic of Christ. However, Blake's creature parodies an elephant to represent a perversion of its qualities, just as Lucifer is a parody of God. Lucifer's outstretched arms caricature resurrection, especially since he bears weapons in both arms. They represent the spiritual adversaries that man must battle within himself -- selfishness and perverseness. The lightning flashes next to Lucifer's body are a visual pun on the meaning of his name, but they also represent the celestial light of truth.

The William Blake Tarot explores the mystical vision and artistry of the renowned English painter and poet. Through rich interpretations focused on creative undertakings, it has long been the deck of choice for artists, writers, musicians, and thinkers. For more information about this deck, or to buy your own personal copy, go to www.blaketarot.com.