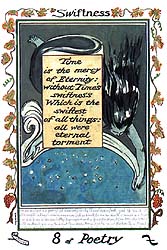 William Blake Tarot
Eight of Poetry (Swiftness)
The figure in the card can be interpreted as Los, the lord of Time who is in love with Space He is shown 'embracing' his beloved, using his wide-spread scroll of poetry to gather the energy of eternity's wide firmament. "Incessant the falling mind labour'd, organizing itself: ...with ease searching the dire vacuity." The imaginative mind swiftly wings its way through the universe, forging personal meaning out of the void and then strives to communicate its acquired truths. This card deals with Blake's ideas about time. Viewed with imagination, time becomes protean and indefinite; it can be lengthened and shortened, altogether stopped, and contains eternity in every moment.

The William Blake Tarot explores the mystical vision and artistry of the renowned English painter and poet. Through rich interpretations focused on creative undertakings, it has long been the deck of choice for artists, writers, musicians, and thinkers. For more information about this deck, or to buy your own personal copy, go to www.blaketarot.com.