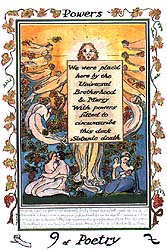 William Blake Tarot
Nine of Poetry (Powers)
A radiant Jesus is flanked by an embracing couple, a mother with two children, and various surrounding angels. This visually renders Jesus's biblical words: "I am the vine, ye are the branches...without me ye can do nothing." Blake too calls Jesus "the true vine of eternity, the human imagination." The branches of Jesus's vine are human beings, whose fruitfulness stems from both passion (the embracing couple) and compassion (the mother with children). The hovering angels are powers that surround the imagination; especially words and symbols, which, like angels, have invisible sway over us. The window quotation carries the meaning of Powers even further. It expresses the inspiring truth that human beings are indeed capable of dealing with our human situations, and even of facing and spiritually overcoming death itself. This inherent human capacity is the divine mercy.

The William Blake Tarot explores the mystical vision and artistry of the renowned English painter and poet. Through rich interpretations focused on creative undertakings, it has long been the deck of choice for artists, writers, musicians, and thinkers. For more information about this deck, or to buy your own personal copy, go to www.blaketarot.com.